REVIEW: L.A.B.2 Eye Brush Set*
So as you all know I'm a massive makeup fan, I somehow end up spending way too much time pondering over which shade of red lipstick I want to wear that day (because we all need loads of different shades...right??) Anyway, I am also a huge fan of makeup brushes, I own so many but I love each and every one of them! So when I was offered a L.A.B.2 Strokes Of Genius Eye Brush Set Of 5 Brushes I couldn't refuse! To be honest I am known for massively favouring high-end makeup brushes such as Zoeva and Urban Decay, simply because I feel the quality is usually excellent and what I would expect from a pricier product. So when I was offered the L.A.B.2 Eye Brush Set I was skeptical, at just £18.99 for a set of 5 brushes (that's less than £4 a brush!) I thought it would be too good to be true, however I was pleasantly surprised!
The eyeshadow brush is perfect for applying the product all over the lid and it packs just enough eyeshadow so none is wasted! It's not the softest brush in the world but it is definitely not uncomfortable and for the price I think it's amazing!
The crease brush does what it says on the tin (or brush) and is small enough to really get in the crease and give your eyes gorgeous definition.
The pointed eyeliner brush is the brush that I have used the least out of this set, it's not because I don't love it, it's just that I don't tend to wear liquid eyeliner often (I prefer to use an eyeliner pencil) but the shape of the brush is perfect for perfecting your cat-eye, whether you're going for a daytime look or a more dramatic evening look!
One of my favourite brushes in the set is the brow & liner brush - I use this brush for filling in my eyebrows with eyeshadow and it's amazing for creating a really natural but defined look to my brows. It distributes the eyeshadow evenly - further adding to how natural my brows look - I LOVE it!
The brow & lash groomer is also one of my favourite brushes in the set. I like to lightly use the brow side of the brush to lightly brush my eyebrows into place to make them look even more defined. I use the lash side of the brush whenever my eyelashes look a little clumpy after applying mascara just to separate them and make them look more natural.
Overall I absolutely love the L.A.B.2 Strokes Of Genius Eye Brush Set Of 5 Brushes - I think the set is extremely good value for money whilst having the level of quality you would expect from more expensive brushes.
What are your favourite makeup brushes? Will you be trying these out? Let me know by leaving a comment below, just click on the title of this post and scroll down!
Love Tyesha
<3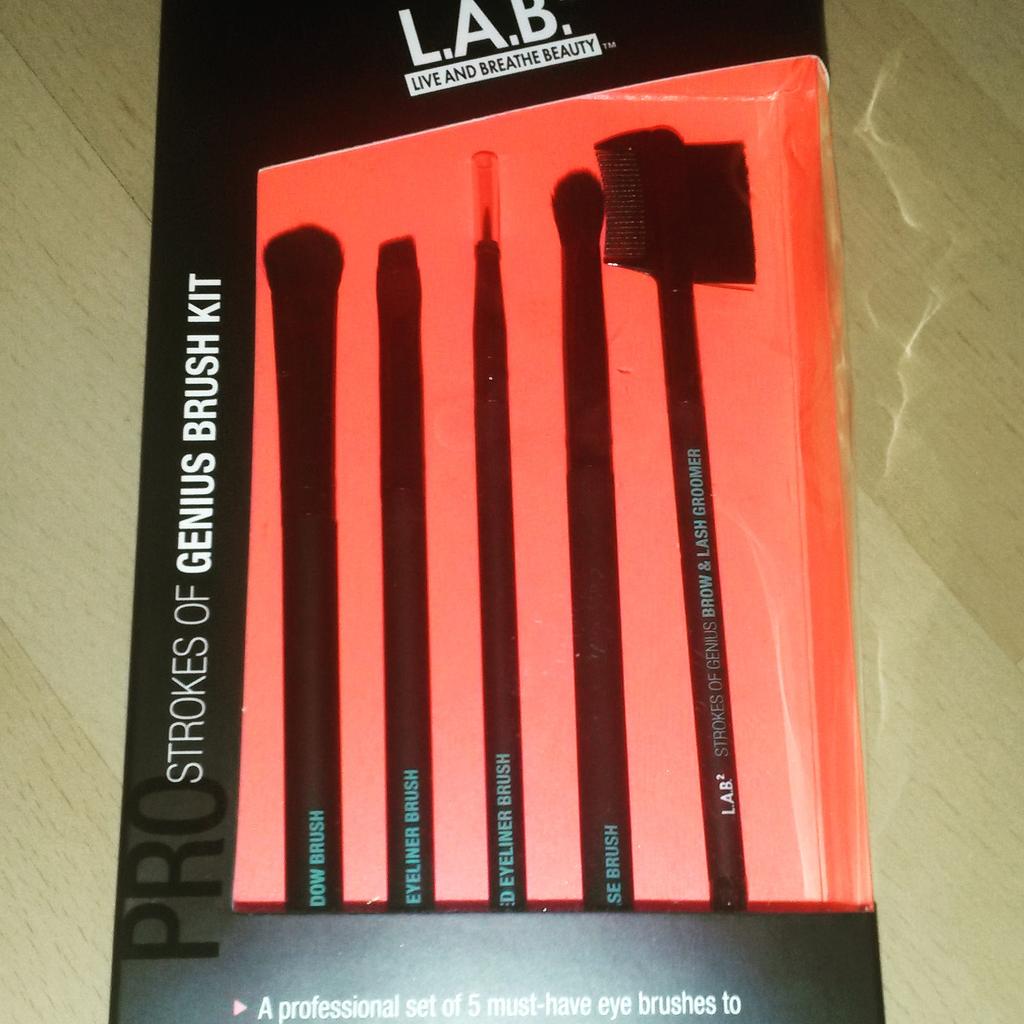 No comments
Leave a reply
Comments
If you like my blog, please leave a comment by clicking on the title of a blog post and feel free to follow me on twitter @Tyesha_xx and/or @BeautyReviews_x and let me know what you think :) <3
P.S. I also have a Bloglovin account, my username is Tyesha
:) <3