I never used to have any sort of skincare routine at all (shocking I know!) but over the past year or so I have developed an evening skincare routine which I am happy (ish) with! (I also have a morning skincare which is very similar to this one so if you would like me to share that with you do let me know!)
Anywayyyy, I start my evening skincare routine by taking off all my makeup from the day with the L'Oreal Paris Skin Perfection Micellar Water - I just put some on a cotton pad and swipe it all over my face and neck. It usually takes me about 3 cotton pads with this micellar water on before all my makeup is removed (which if you ask me is pretty good! No rubbing and dragging the skin - it can also be used on eyes and lips so it's actually really gentle so it's great for sensitive skin like mine!)
Once all of my makeup is removed I like to make sure my skin is fully cleansed by using the Simple Refreshing Facial Wash - I apply this after I have wet my face with warm water and I remove it with a wet face cloth (you can also remove it with just water if you'd prefer) - I really like this face wash as it removes any last traces of makeup and makes my skin feel really refreshed after I use it.
Next I like to use a toner - I'm currently using the Instanatural Vitamin C Facial Toner - this was actually sent to me by the company and the product is alright but I'm not that impressed to be honest. The bottle has a pump so it can be sprayed directly onto the face (but when I tried this it got everywhere so I just spray it into my hands and apply it to my face that way).
After toning my face I like to use the Nivea Daily Essentials Regenerating Night Cream - this is AMAZING! It comes in a cute little jar and sinks into my skin really easily! (I like to use a cotton bud when getting the product out of the jar as this is more hygienic :) ) - I apply this to my face in small circular motions (with the circles going towards the centre of the face to reduce stretching of the skin) and avoiding the eye area. My skin always feels so soft after using this and it still feels soft the next morning!
I then like to use the Simple Kind To Eyes Soothing Eye Balm - I like to apply this with my ring fingers so it's more gentle on my skin. This eye balm is so moisturizing and is amazing at keeping my eye area hydrated and soft! As with all Simple skincare products I have found, this is really good for those of you who have sensitive skin like I do! :)
For my lips I like to use the Vaseline Lip Therapy Rosy Lips - this is literally the best lip product I have ever come across! My lips feel SO hydrated after using it and I also like to use it during the day as well because as well as keeping my lips moisturized, it also gives them a gorgeous rose coloured tint (sometimes I like to use this instead of a lipstick or a lipgloss when I'm going for a more natural look!) - it is amazing!
Finally for my hands I like to use the Dove Visible Effects Hand Cream (I'm not sure if this is still available in places such as Boots and Superdrug but I think it might be elsewhere such as Amazon) anyway, this is amazing for keeping my hands hydrated, I always wake up the next morning with super soft hands! Amazing! :)
And that is it! I hope you've found this post helpful in someway and if you have any questions feel free to tweet me @BeautyReviews_x or @Tyesha_xx :)
Love Tyesha
<3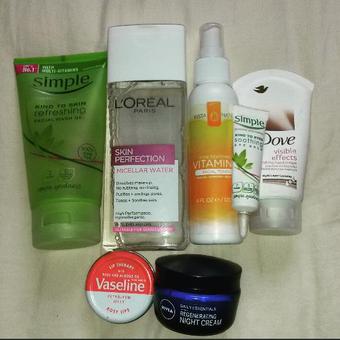 Comments
If you like my blog, please leave a comment by clicking on the title of a blog post and feel free to follow me on twitter @Tyesha_xx and/or @BeautyReviews_x and let me know what you think :) <3
P.S. I also have a Bloglovin account, my username is Tyesha
:) <3